Thursday 5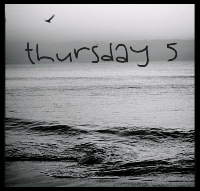 Head over to Nicole @
Flip Flops and Combat Boots
if you want to participate. This week's words are:
Happy
Delighted
Grateful
Totally Stoked [Didn't we just do "stoked" last week?]
Thankful
1. I am happy that I got to run around and play in the snow today, despite the fact that it spoiled my fondue date with Trinnie. Definitely not happy about that! I was really looking forward to a nice, reflective evening over cheese and chocolate.
2. I am delighted that we got so many chores done today. All of our Christmas decorations are down, packed, and stored, aside from one box which will hold the lights from the front of our house. I was even able to put my new tablecloth (50's pink, turquoise, and purple with pansies and daffodils) on our table. I even found a new recruiter and have an appointment with her [yay for a female!] this Tuesday. Did I mention that I even went for a run this morning, and spotted a house I liked in our neighborhood? A girl can dream!
3. I am grateful for a loving husband who made me breakfast this morning! He's such a snuggler and a lover!
4. I am totally stoked that tomorrow is my birthday and we're going out for BBQ with friends! Yum! I hope that the weather doesn't spoil it.
5. I am thankful for a stocked fridge! It's nice to be able to make dinner and have stuff at hand.
You May Also Like
September 27, 2021
February 2, 2020
May 30, 2011