Thursday 5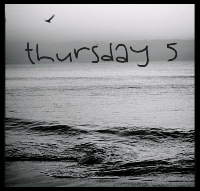 Head over to Nicole's at Flip Flops and Combat Boots to get in on this weekly meme! This week's words are:
Patient
Joyful
Marvelous
Grateful
Wonderful
1. Being
patient
has paid off, as DH has finally been given the opportunity to do multiple schools on active duty status, which means active duty pay! 🙂 All of those times we scrimped and stayed at home to save money have paid off, because we'll
finally
get to have date night tomorrow! We haven't had an outing as a couple since I've been here in late June. We're probably heading to the movies to
True Grit
, since DH loves westerns.
2. I am
joyful
that tomorrow is Friday and I have nothing planned for the weekend! I really need to get active again this weekend, since I've been slacking. Now that I have an actual date for BMT, the heat is on to get in shape.
3. There is nothing more
marvelous
than my new Guerlain Blush G Serie Noire that arrived today! Stepping up to the next level of high end cosmetics is quite the experience. Just swatching the product was gasp-inducing, as the powder is so finely milled. I'm super pleased with this purchase, and it was worth the wait!
Quick swatch pic I took with my BlackBerry
4. I am so grateful to be happy and healthy, to have passed through MEPS without any issues, and to have found a job within the Air Force Reserve this week. I am eager to do my face-to-face interview with my receiving unit and dazzle them with my competence and sparkling personality. 🙂
5. The taste of achieving a goal is downright wonderful. I swear in on Monday, and I can't tell you how proud I feel right now, let alone how I'll feel while taking my enlistment oath. The dream of serving my country is finally coming true and I will be proud to stand amongst those who have also made that commitment.
You May Also Like
December 17, 2010
May 30, 2011
April 4, 2021