Thursday 5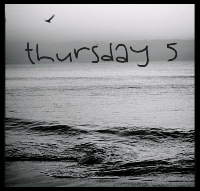 1. Jubilant – I am jubilant that Christmas Eve is tomorrow. My family exchanges gifts tomorrow after dinner, and despite the fact that we couldn't afford to give this year, I know I have a few coming my way. I truly am blessed to have a loving family.
2. Giddy – I am giddy about the fact that I still have a week of vacation when I return home from Mexico. I will definitely need the time to bomb around with DH, Trinnie, clean house, and work on my Etsy shop.
3. Excited – I am excited about my upcoming birthday (a week from tomorrow), even though I know we're planning for a mellow evening. It looks like DH might be home for the big event too!
4. Thankful – I am thankful for all that we have and all that we've been able to do. I pray that we can continue to live as nicely as we do, despite our financial difficulties.
5. Stoked – I'm stoked to be able to return home to my husband after this trip, and to get to spend some time with him before school starts back up!
Related posts:
You May Also Like
September 27, 2021
February 25, 2011
April 4, 2021