Miscellany Monday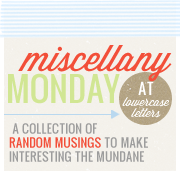 1. My neck is killing me today. I slept on it wrong a few weeks ago, and now it's back with a vengence. If it keeps it up, I may be heading to the chiropractor or something [I've never been]. This is painful and I have a physical this weekend at UTA. I don't need to appear broken for the Air Force, thanks. A massage would be amazing right now, and if I hadn't planned to lecture today, that would've been awesome too.
2. The faster this week goes by, the better. Trinnie and I are going to see The Bellamy Brothers on Friday at the same club where we saw Ronnie Milsap last year. If you recognize these names, come sit next to me, because you've just earned some cool points!
3. The morning after that show, I'll be up bright and early for UTA! I'm actually pretty eager for drill weekends. It's nice to get out of my usual element and do something different for a change. It's going to be a weird UTA though, as we've had some budget concerns so some people are only drilling half the weekend. I'm fortunate that I've got CDCs to do, so I get to work the entire thing. Yay me! Bring on my DFAC food!
<><><><><><><><>
4. I've been thinking more and more about MTI school, even though it's a long ways off. Perhaps many folks have this initial urge to be an MTI when they're fresh out of training, but I do believe I could do it. It's a natural extension for me as a teacher. I have to have three years of total service in the Air Force before I can put in my packet. Understandably, this means a PCS to San Antonio and me leaving the teaching profession for at least 4 years. By the time this finally happens (if it happens), I'll have been teaching for 9, almost 10 years. If I had that much active duty time under my belt, I could work on my Ph.D. and not pay out of pocket (via the G.I. Bill). Only time will tell, but we'll see what happens. In the meantime, I'll knifehand the children. 😉
5. I was denied split orders for my seasoning training, which was a bummer for me. I had hoped to do some on-the-job training [for the AF] over Thanksgiving break, winter break, spring break, and then into summer. Sadly, they're telling me I can't separate them and do them all in one shot, which means I have to wait until the summer. As a result, I won't get as many days. The plus side is that I can actually enjoy all of those vacations, rather than working straight through them. I could've used that money, but what can you do? I'm at the mercy of The Powers That Be. In the meantime, I'll work on powering out my CDCs. 
You May Also Like
February 22, 2011
August 5, 2020
September 6, 2020