Miscellany Monday
I love a Miscellany Monday since I'm such a rambler when I speak.  After a weekend, there are always some goodies to share with you!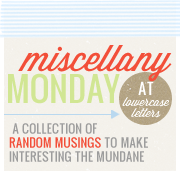 1.  FIL (father-in-law) is home!  I haven't seen him yet, but he's back!  My DH went to Phoenix this weekend to pick him (and his things) up and bring him home, after being gone since October visiting family and doing some odd jobs.  I'm blessed to have a great relationship with my FIL, and he's very conscientious about giving us our space, not telling us how to run our home, helping out with cleaning, etc.  He's a model live-in parent, and we have a lot in common.  Did I mention that he's retired, Air Force?  He outranks everyone in our home by leaps and bounds, but you'd never imagine it by the way he acts.  One of the most humble, down-to-earth people you'll ever meet.  Love me some FIL!
2.  Growing up in California, we had access to a plethora of grocery shopping options.  When my mom was battling her cancer, she strived to decrease toxins in her food, so she shopped (and ate) a lot of organics.  Enter a life-long love affair with Trader Joe's.  Back in CA, you could throw a stone and hit a TJ's.  In North Carolina, you had to drive an hour and a half to get to the one in Raleigh.  In Colorado?  Not even an option.  Go ahead and drive four hours across the New Mexican border, and you'll find one in Santa Fe.  With as crunchy as Colorado is, it's a shame that we don't have a Trader Joe's, or even a Fresh and Easy market.  Nope, just Whole Foods, which is a drive up town and too pricey for a full weekly grocery run.  Long story short, DH made a run to the Phoenix TJs when he was coming home.  He brought back goodies for me, gluten-free granola for one BFF, and Maple Cookies for the other BFF.  He called me from the store to read off the names of all of the beauty items, so I could place my "order" over the phone.  He even brought back some surprises, including two new reusable bags, freeze-dried blueberries, and some organic banana chips, in addition to my other requests.  I am such a lucky girl and a happy camper at that!
3.  It seemed fitting to do something special for my Air Force anniversary tomorrow night for dinner.  What would be more appropriate than The Airplane Restaurant?!  We've eaten there before, and it's pretty awesome.  You get to eat inside of a KC-97 tanker that has booths on either side of the center aisle.  The cockpit is open for pictures, which we took when we went with Trinnie + family last time.  Good times!
4.  When you join the AF, you don't automatically become versed in-plane identification.  They don't teach you that at BMT.  I can't look at a plane and tell you what it is, aside from the one flown in my squadron.  Just saying.'
5.  This weekend felt long on one hand, but very unproductive on the other.  Haley and I did Mandt training on Saturday morning, which is restraint training in a school setting.  We got out early, but the majority of my afternoon was spent napping and moping.  Sunday I woke up early, but then went back to bed and had a late start, so I really only got my Sunday chores done.  DH was convinced I'd cleaned though when he came back late last night.  🙂  Sure darling, of course, I cleaned!
You May Also Like
April 4, 2021
April 4, 2021
February 2, 2020