Miscellany Monday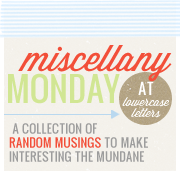 1. One of the highlights of my trip to Phoenix, AZ was going out to
Charlie's
with my FIL and the guncles. Charlie's is a gay bar…a gay
country
bar! Just my style! We actually went out two nights – the Tuesday before Thanksgiving and on the night of Thanksgiving. On Tuesdays they do two-step lessons and Thursday was line dance night. Only at a gay bar does a man approach you and ask if you lead or follow.
Awesome
. Tuesday night kinda sucked. The DJ was not really familiar with the music and picked some of the slowest, most boring songs ever. Thursday was
much
better! The dance instructor was also the DJ and he picked some great songs and had endless energy. I got a ton of dancing in prior to us leaving and hitting the outlets for midnight madness shopping! Good times with the FIL!
2. DH finally got his truck debacle sorted out today. He was able to do the emissions test again – it passed – and then he went to get his plates. I was expecting the typical Colorado plates, which are green, or maybe the Marine Corps plates. I pull into the house and DH is rocking –
wait, what?!
–
Army plates
. DH is not the super-hooah type, and is quite the shit-talker, so I never expected this in a million years. Go Army!
3. DH has been super snuggly lately. We've had some great couples time at home, just hanging out and being with each other. I'm really thankful that we have had a few extra days together before he leaves again this week. He's going to be gone for five weeks for training with his transportation company. He's definitely going to be gone for the holidays and he'll probably miss my birthday, which I was expecting. He will be coming back in time for WLC at the beginning of the new year, but we'll get active duty pay for that, which is much appreciated right now.
4. My best friend
Trinnie
rocks, she really does. I really couldn't have been blessed with a better friend. I can count on her for anything. She's incredibly thoughtful and is truly my partner in crime.
<3
5. After getting home from a sixteen hour drive on Saturday, the house was a disaster area! It was really overwhelming, especially since I was going to have to go back to school today. I had to unpack, do my usual Sunday chores, and not to mention clean up the Christmas decorations that I had set out before we left. Thankfully, I put away most of my stuff and got unpacked fairly quickly. I still have more to put up around the house (the aluminum wall trees!) and the tubs need to go back in the closet. I'm definitely ready for this coming weekend and some down time!
You May Also Like
January 17, 2020
September 27, 2021
January 16, 2020