Miscellany Monday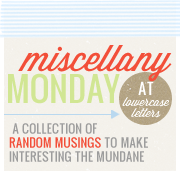 1. Happy Monday, everyone! I can say it's been somewhat productive for me today. I've done a bit of paperwork, scheduled a couple meetings, had a fairly successful day so far in class, and it's downhill from here. I have some tutoring after school, then home to relax with DH and proceed with a couple new workout plans (
Hundred Pushups
and
Two Hundred Sit-ups
). Dinner tonight is
chicken tortilla soup
that'll be done by the time I get home, thanks to ye olde crockpot.
2. Today is DH's first day back at school! He's going to a local community college, doing a Criminal Justice program while he waits for the law enforcement academy to begin. He's got quite the uphill battle and learning curve ahead of him, since it's been forever since he was in school. Did I happen to mention that 3 out of 4 of his classes are online and he doesn't have much patience for computers? Yeah, you can imagine how cheery the Every Branch household is going to be over the next few weeks. Good thing Trinnie's husband also attends this school and can help him with the technology piece if needed. As a teacher, I love first days of school and fresh starts! Luckily for DH, he has a built-in math tutor at home. 🙂
3. Today (and March) is bringing us some financial ups and downs. The most exciting news is that we paid off DH's old truck today with our tax return (well, the feds, Colorado, and California)! I can't tell you how good it felt to see a zero balance online this morning – I'm sure some of you know the feeling. That truck should've been paid off a long time ago. We're still awaiting a big return from North Carolina (well, I am), but they're notoriously slow and their status checker doesn't even have it as being processed yet. NC is also one of the only states that doesn't e-file, so I had to send in my forms by mail. Really? It's 2011! With DH getting ready for school, he hasn't picked up any schools as a reservist and he is still job hunting, so we're really strapped this month. Come to find out that the money I thought I'd be getting for winter athletic duty isn't going to arrive until next month, when we should've had it at the end of htis month. Not good, I was counting on that money.
4. DH is using his GI Bill to go back to school. Do any of my readers have experience with this? If so, I'd love to pick your brain! DH came off of active duty, and he's using chapter 30, whatever that is. He hasn't received his money yet, but the school is allowing him to start and they're expecting his tuition once it comes in. It's my understanding that we'll get BAH too, but DH isn't sure and I don't know either. I'm really hoping that we do, as it'd be a huge help to us financially. I think we could get away with filling the gaps and putting the rest to our debt, which would be a godsend. I'm really hoping this is the case – and fast!
5. We had a rough start to our weekend, but pulled it together in the end. DH has been stressing about school and his job search, while I've been getting frustrated with the fact that I do 99% of the chores around the house (while I work full-time) and feel like he only wants to watch Netflix movies instead of do anything with me. It hasn't been fun, needless to say, and I think he feels neglected in favor of blogging. Oops! Ultimately, DH and I have a lot of love for each other and it's a work in progress, as is any relationship. It's a challenge we're still facing, trying to prioritize our relationship and each other in spite of stressful circumstances. What's your favorite free date?
You May Also Like
May 18, 2011
May 30, 2011
September 27, 2021