Miscellany Monday
Finally got caught up at work, bring on the Miscellany!  It's been a long weekend of training; I ordered Friday through Sunday, so there was little to no downtime this weekend, let alone time for chores.  Any teacher will tell you that planning for a sub and re-organizing upon your return is sometimes not even worth the absence.  On with the miscellany!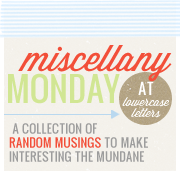 1.  Normally I'm really eager for UTAs and active duty orders, but this month is draining.  In a period of four weeks, I'm at drill three of those weekends.  It may seem like I'm whining, but when you factor in full-time employment on top of it, I haven't had a lot of free time on the weekends.  This weekend reminded me why I don't do office work as a full-time job.  I was more exhausted on Friday than I normally am teaching crazy high schoolers all day.  Sitting and staring at the computer screen, largely uninterrupted, doesn't work for me.  It's mind-numbing.  I think I would've rather been here at school!  Sundays are the worst; as soon as I bail from the squadron, I have to speed-shop my way through the commissary and then race home to do an entire weekend's worth of chores in a few hours.  Not fun.  I'm hoping to get to relax tonight.

2.  Did you know…that if an Air Force aircraft hits a bird while in flight they need to take a blood sample or some downy feathers with a special kit and then submit them for DNA testing?  The Air Force documents the altitude, frequency of occurrence, migratory patterns, and analyzes the data to better inform their pilots.  Who knew?!  Yes, as a personalist, I sat through this briefing.  You know, because I'll be hitting birds flying in between buildings as I go back and forth.  😉

3.  I'm hooked on McDonald's Strawberry Banana smoothies.  I used to work at Jamba Juice (for four years), so I know they're not "real" smoothies, but I still can't get enough.  The local Jamba is way too far away for me to frequent, so I have to settle for the McD's.  I had one every day this weekend while I was on orders.  Nummy!


4.  I visited the education and training office again this weekend and was thankful to learn that our petition to earn credits in a few additional areas was granted.  Sadly, I still need three credits in speech, 0.34 credits (really?!) in math, and 0.34 in humanities.  So, I'll have to test out of math or humanities (three full credits) in order to fulfill those measly 0.34 credits.  Taking a class is also an option.  *sigh*  I've signed up for the DSST test in speech for this weekend.  While I feel comfortable with the recorded speech portion, I received a 67% on my practice test for the multiple-choice portion.  I've never taken a speech class – I don't know the technical jargon, and I need to learn it all quickly.  Part of me is tempted to take a couple of classes at the community college, just for fun.  I just don't know how well I'd do on some of these tests.  We'll see what happens.  Maybe a summer session at the community college is in my future.  I wouldn't be opposed to it at this point, especially because I'd get to pick classes that sound interesting to me, rather than just taking a test…as long as my Tuition Assistance covers it!

5.  Easter is the best season for candy, hands down.  What are you munching on?  Here are some of my favorites!
6.  Have you entered my giveaway yet for a copy of My Memories Suite Vol. 3 software?  What are you waiting for, go for it!  I love MMS and can't speak highly enough of how much fun it is to use!  Here are another two pages that I've completed with the software.  
You May Also Like
April 4, 2021
November 7, 2010
September 6, 2020