Miscellany Monday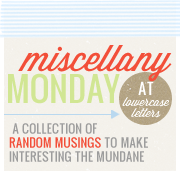 1. Today was supposed to be an exciting day for me. I planned to call up my recruiter and formally request to have my orders soon, since I need them a month in advance for work. Yeah, that was a big FAIL – got voicemail on both numbers. I have a feeling they're on a four-day weekend. Some rumors are also going around our Facebook group that people aren't outprocessing until the 31st, and shipping on June 1st, so I'm eager to know if that's true for me as well.
2. Thanks to having insurance again, I went in for a lady doctor appointment after school! I know so many people hate these appointments, but I don't mind them. My first pap was at age 17. I was alone, since my mom felt that taking me in for birth control was condoning my [sexually active] behavior. I don't look down on her for this stance, although I don't think it was the best idea she's ever had. It did force me to be responsible though, since I went out and educated myself and made sure I was protected. After that experience, paps at regular doctor's offices are no big deal.
I was in and out in thirty minutes today, and that includes a lengthy discussion about my next steps for conception! The nurse practitioner that I spoke with let me know that my experience back at Fort Bragg with the reproductive endocrinologist was atypical – they should've had us do a sperm analysis first, then an HSG for me, and then Clomid. The only thing I did at Bragg was Clomid, so you can imagine how smart and effective this was for us. We need to see if there's anything wrong with DH first, then see if I have any blockages, and then if we're both ok, we'll proceed. I cam home with a "doggy bag" for DH with a specimen cup – you can imagine how excited he was! He did seem willing, although he tried to tell me I was going to have to return the specimen to them. 🙂 We won't proceed with anything of this nature until I return from tech school, and even then, I would like to make sure we're both gainfully employed full-time.
3. Day two of DH's favorite foods is going well! I did flounder tonight, breaded in cornmeal and lemon pepper. It was a hit and he was a happy camper. My slow cooker chicken tortilla soup for tomorrow is already prepared and ready to go in the fridge. I love a good slow cooker meal, and it's a perfect night for it, since I have a softball game tomorrow. The game is going to be a tough one! It's against the middle school on post, and their staff is undefeated as well. Someone's going to have a tarnished record after tomorrow night. Hopefully we can deliver!
4. It was a helluva Monday, let me tell you! Definitely not a fun Monday, like last week. Little drama here, little student running the door into my bum wrist there, etc. The weekends just don't come fast enough these days. I keep trying to convince Haywee that the Springs Cupcake Truck needs to deliver gluten-free nummies to our school, but they don't deliver down to our area – boo! Haywee gave up dessert for Lent, so it's definitely time to make up for what she's missed! On a positive note, she pointed out that we only have four Mondays left in this school year!
5. Ok, it's time for me to step away from the computer. I have a boatload of pushups and situps to do before everyone in my May Shippers group gets on oovoo for the night!
You May Also Like
September 6, 2020
January 23, 2020
December 30, 2010