Miscellany Monday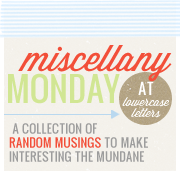 ‎"Never interrupt someone doing what you said couldn't be done." – Amelia Earhart
1. Man, what a Monday! The first Monday I've looked forward to in a long time, and it was
a day
. I was looking forward to today because it was the start of the last week of school. This is IT! I'm almost done with my 5th year of teaching, I was set to finish my lesson plans, etc. I started off the day by missing my bowl of cereal, having to leave my iPod behind because it wasn't done syncing, forgetting my school keys, and realizing I had forgotten to put on deodorant. Mhmm, that kind of day! Luckily everything turned out ok in the long run, but it was definitely a tough start.
2. Remember when I did DH's favorite meals for his birthday week? Well, this is
my
week! This is the week of my favorite "Last Suppers" with the
pièce de résistance being The Melting Pot on Thursday, double dating with Trinnie. Can't wait to get my grub on with some fondue and good friends!
3. I was so focused on the fact that Saturday marked 10 days left until BMT, that someone else pointed out that on Sunday we hit single digits! As the countdown gets smaller, I'm definitely getting more excited. I've been verbally recognizing all of my "lasts" – last workout at the gym, last trip to the commissary, last time I take the trash out, etc. I've really been focusing on those positives, knowing that I won't have to do them (these chores) again until September.
4. Most of you know what a big makeup hoor I am. Heading to BMT, it was nice to know that I wouldn't have to worry about dealing with any of it until late July, when I'd be allowed to buy some for graduation. Wrong! I found out from my recruiter that we were allowed to bring some, for our formal pictures and graduation, and that it would just stay locked up in our bags. You'd think that'd excite a girl like me, but it just stressed me out more. I'm all or nothing. I can't just take an eyeshadow duo, mascara, and lipstick. I did manage to simplify last night, and picked out the bare, neutral essentials that would work all summer. [For you fellow mu fiends: Kevyn Aucoin E/S #1, CARGO Blu-Ray Blush, and MAC Brave New Bronze l/s, amongst other stuff.] Lest you think prissy of me, I promise, this has not been a high priority around here, and Trinnie can vouch for that. I'm more excited about new running gear than I am about new makeup releases.
5. I have a case of runner's envy. I spotted a co-worker at Saturday's race, someone who I didn't know was a runner. She was kicking my ass too, and looked like she was doing it effortlessly. Her final time was about 6ish minutes ahead of me, but she managed to finish 105th to my 175th, and snagged 5th in her age bracket. 5th! Next year, dammit, I will do better! At least, better than my own time/performance this year. I asked her how often she ran, and she said she doesn't. Guess I'm just going to have to work a little harder, since I don't consider myself a natural talent. I've been stalking the official BMT page on FB, and keep tabs on the PFT totals of the top female trainees. I really do think I have a good shot at performing well. The most recent top female did her 1.5 mile run in 10m40s, 54 sit-ups, and 48 pushups. If I can speed up my running pace, I think I can manage similar statistics.
You May Also Like
April 4, 2021
January 15, 2020
October 15, 2021