Miscellany Monday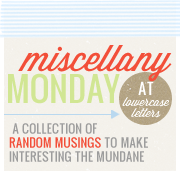 This is it!  The last week of the school year!  This Miscellany Monday is my last Monday at school – can't tell you how exciting that is!  Smooth sailing from here, folks, with just one more day of reviews and three days of finals!  I can do this!

1.  This weekend was the
My finisher's medal for the Colfax Half.
I'm proud to say that I achieved all of the goals I set for myself!  I ran the entire thing non-stop (slowing if needed, but never walking), making it the furthest I've run to date.  My original projected finish time was 2:15, but I knew that would be my ideal based on the training.  I wanted to shoot for 2:30, but definitely under 3 hours.  I was ecstatic to sprint to a finish of 2:19:58!  I'm very pleased with myself and my performance, although I can feel every ounce of effort today in sore muscles and chafed thighs.
Fun moments included running into the parents of one of my students and finally meeting a Twitter friend of mine (and fellow AF Reservist).  I feel confident signing up for a half marathon again, after doing so well in my first, although my ultimate goal is running the Air Force Marathon in 2013 with my dad.


2.  Perhaps you've spied my official 2012 Milbloggie badge over to the side?  Yes, it arrived via email this weekend.  Again, THANK YOU to the best readers ever!

3.  DH and I are meeting up with an MTI friend of mine on Wednesday for a group dinner and I'm beyond excited.  First time seeing him since I've become operational, so I'm looking forward to having a normal conversation that doesn't require a reporting statement or me being at attention. 

4. DH started his AT (annual tour/training) this week on base, which is a relief for us as his civilian job hasn't been reliable lately.  I'll be joining him a week from tomorrow!  I'm eager to begin seasoning training with my wingman and learn all of the functions of my job as a Personnel.

5.  Shout-outs to my FB BMT groups, with whom I have the occasional ooVoo chat!  Reminds me of my old days in DEP and ooVooing for hours with my group.  I love connecting with my readers!  [If you have a ship date and you haven't yet, go search "BMT Your-Month-Here 2012" and link up with others leaving in your month].  
You May Also Like
April 20, 2011
April 20, 2011
February 22, 2020