Miscellany Monday
 Ah, Monday!  I can't complain about Monday today, but I'll explain more in my rambling below.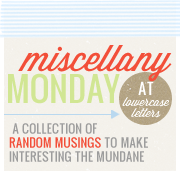 1.  I'm at home today.  Normally, I'd be in the office, clad in my blues, seeing BMTers out-process and get ready to leave.  Nope, not today.  I'm at home in shorts and a tank, enjoying some time off after a long week and UTA weekend.  Life forced me to slow down today, although it wasn't for the best of reasons.  My car's ignition has been giving me some trouble and it's become unreliable.  After a long day, it's frustrating to get into the car and wonder how long it's going to take for the key to be able to turn.  So, I dropped the car off after work yesterday and was fortunate to get the day off to handle all of that business.  This allowed me to go take our other car in for new tires and walk through our soon-to-be new home and start visualizing my stuff in there.  Still waiting to hear what's going on with my car, and I'm not thinking it's going to happen today.  I'm really hoping it's not too expensive of a fix, as I would hate to see my summer savings whittle away due to car problems.  [Update!  It's the lock cylinder, and thankfully it's going to be in the $300 range, which is totally doable!]

2.  Gotta love PCS season!  Today is trash day in our neighborhood and the house right next door had four dish pack boxes sitting out by the curb, completely full of packing paper!  They had other broken-down boxes, so I salvaged those as well.  You can never have too many free boxes, especially when you have to move.  I'm thankful that we won't be moving too far, so we can make multiple back and forth trips.

3.  The results for the board have not been released yet, despite my original understanding that I'd hear late Saturday or early Sunday.  I've hit that point, mentally, where I know it's out of my hands and control.  I'm going on about my business until I hear otherwise.  I definitely plan to post about the process for you all, but I want to wait until I hear the final results so that I may be as thorough as possible.

4.  Sunday morning at the UTA involved an Airman's breakfast with the 22nd AF commander, Major General Farris.  I was fortunate to be able to represent my squadron at the breakfast, which largely involved a question and answer session.  General Farris was running behind, so the poor man maybe got to eat two bites of his breakfast while we fired questions at him, including a number of budget-related questions.  He was an extremely down-to-earth, personable man.  Side note, did you know that you're not supposed to refer to a general officer as "sir?"  Instead, you call them "General" every time.  What else did I learn?  Apparently, SSgts (E-5 in the AF) are considered junior enlisted.  This was news to me since I was used to the Army standards.  You learn something new every day!

5.  My other hope/goal for today is to study for the AFOQT.  I need to buckle down after dinner (and a run) and get through another practice test.  Three days away, yikes!

Hope everyone else is having a stress-free Monday and is gearing up for a great week!
You May Also Like
December 17, 2010
April 4, 2021
November 10, 2010