Miscellany Monday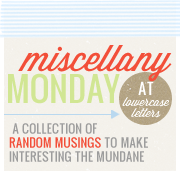 Time for Miscellany Monday and a wrap-up of my UTA weekend!  This is going to be a ridiculously busy week for me, and I'm dreading it after not getting enough time to rest and recuperate this weekend.  It could be worse, I need to remember that.  At least I get downtime and I go to sleep every night in my own bed alongside my DH.  I digress…

1.  I learned that I wasn't really a 5 skill level yet, even though I'd finished and passed my CDCs.  I haven't hit the required "time in training" in order to upgrade to a 5 level.  Yes, "upgrade" is the official Air Force term.  Try not to feel like a cell phone.  I'm supposed to be close, if not complete it, by the time I finish my seasoning training.
2.  Speaking of my seasoning training, I finished the necessary paperwork to put in for all of my training over the summer.  I'm going to be working from the start of the summer to the end, with only federal holidays off.  Sure, I'm giving up my summer again, but I want to get that training under my belt and the money will be going to debt repayment.  Goals, people, goals!  There are some casual plans in the works for a BMT reunion between my flight and my brother's flight, so I may get to sneak a little vacation in there.
3.  I realized I haven't updated you all on the status of my CCAF degree.  Turns out, with my nine years of collegiate work, I'm only halfway to my AAS degree.  Halfway.  My joke has been, if I told you I'd been going to college for nine years and I'm only halfway to my AA degree, you'd think I was a loser.  The sergeant helping me in education and training is putting in a petition/request for me to get credit for some of my classes.  Hopefully, it works – I really don't want to have to take twelve classes (or take twelve DSST/CLEP tests).  I am planning to take some DSST tests to earn credit for a speech class, as well as a couple of management classes.  If I don't earn management credit that way, I can earn it through my Airman Leadership School (ALS) course, but I can't take that for another two years.  I want to get my CCAF while I'm waiting for everything else (ALS, promotion to SSgt, putting in my packet for MTI school).
4.  I'm one step closer to feeling like I'm doing my job!  Today I finally got access to the computer software personalizes use to complete a number of functions.  My position has me a bit isolated from the main group of personalists in our wing (the FSS), so getting the necessary training requires extra effort on my part.  Luckily, I'm able to work with them when I do my seasoning training, and also on my upcoming annual tour days over my spring break.  One would think I don't like vacations.  😉
5.  A gas mask fitting and a free government passport?  You know what that means – deployment readiness!  No, I don't have deployment orders, but I'm always making sure that I'm ready to go.  Call it naivete because I'm new and inexperienced, but I do want that opportunity to serve and fulfill the mission.

Weekend in a nutshell!  The big awards banquet is coming up soon – I picked up my tickets yesterday!  Good thing I've been asking questions, as AFI 36-2903 isn't as clear as I'd like it to be about what is and isn't required for the semi-formal dress.  Better to ask than to commit a faux pas on the big night.

**I've got a fun post for you tomorrow in honor of Valentine's Day, about love BMT style!  Yes!  Everything you've wanted to know about love, sex, and attraction at BMT.  Seems absolutely ridiculous, but folks, we're mammals!  Someone cue that song…**

You May Also Like
April 20, 2021
April 4, 2021
November 8, 2011