Miscellany Monday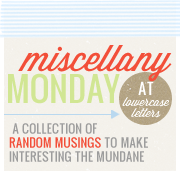 1. A student in my 5th period class called out, "Oh! It's December 12th!" It hit me – on this fateful day, six years ago, DH and I moved into our first apartment together. We didn't have much money [Gee, that story sound familiar?], we had been denied on our first two attempts, and we'd finally found a place that would accept our application on my salary alone. It was a humbling experience and we were thankful to have a place to live, together. I hear it was something in the neighborhood of 650-750 square feet. It had one bedroom, one bathroom, a single carport, and a single open parking space. While we swore it would be temporary, we stayed for three years. It just made sense, especially when DH left for Korea and then Bragg. I loved that little apartment – everything fit perfectly. We've been moving up to bigger homes at each home since then, but I miss our smaller spaces.

Torres Mazatlan @ VI Resorts
4. As we're getting closer and closer to winter break, I'm trying not to think of the fact that I'm staying home this holiday season. My Christmas is typically spent south of the border, in Mazatlan, Mexico. The (family) group heading down is dwindling, down to three people, despite the fact that our accommodations are huge this year. I wish DH and I had the money to go down. He hasn't been there in years, and fell in love after his first visit. It just doesn't make sense for us financially, and I don't want to go without him this year, since he's home. A quick search on KAYAK reveals that it'd be $575 a person right now – yeah, that's not happening. *sigh* Hopefully next year!
5. I mentioned before that we're not buying presents this year…then I remembered that I purchased my official AF photos for the grandmas and my dad, and we found a little sum'n sum'n for my dear friend Trinnie. Their family does so much for us, it's hard not to want to gift the boys. I even saw a "My Auntie is the Best" onesie for Baby Tony! It was really difficult to stick to "the plan," which was footed pajamas. I love having wrapped presents under my tree – maybe tonight I'll bust out the paper. 🙂
You May Also Like
April 12, 2021
April 4, 2021
September 6, 2020