Miscellany Monday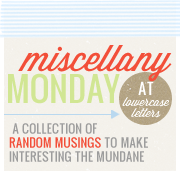 Happy Monday everyone!  I'm not usually overjoyed about a Monday, but this has been a fantastic day!  Share time!
Branch #3, it's official!
1.  It finally happened!  I got the phone call that DH would be swearing in this afternoon!  If you've been following my story of frustration, DH has been trying to switch from the Army Reserve to the Air Force Reserve for months now.  His most recent hang-ups were due to issues at MEPS.  He made multiple trips up to Denver, and ended up doing a stress test (running on the treadmill while hooked up to sensors), which resulted in the verdict of – gasp – he's healthy and everything's fine.  The final waiver took a week after that, which brought us to today!  It is such a relief to know that we've finally made it through this process.  This is DH's third branch of service; he truly is my Military Renaissance Man!  [Yes, we seriously talk/joke about him doing every branch.]
2.  Although DH did WLC [Warrior Leadership Course] while he was in the Army, they told him that he would have to do ALS [Airmen Leader School] now that he's in the AF.  I joked that we could attend together!  Think about how much sense that would make – one room, one mileage reimbursement, etc, for two people!  Makes perfect sense to me!  🙂  He says he doesn't want to wait that long for my eligibility though – party pooper.    

3.  I have a busy, busy week ahead of me at school, with no rest this weekend since it's UTA time again.  A couple of IEPs to write, a Consumer Math curriculum to research, and a DVR to catch up on.  A girl's got priorities, folks!

4.  I haven't done a formal blog post about it, but I'm 40 days away from running my first half marathon.  I need to kick my training up a notch.  I haven't done nearly as many long runs as I need to be doing.  I'm pretty sure I can pull it off, but I don't know how pretty it's going to be in my current state.  Meanwhile, that officer pictured above with DH?  Yeah, he's about to do his second Boston Marathon.  Talk about "Excellence In All We Do!"

5.  Nominations for Milbloggies opened up this evening and a number of you have already thrown my name in the hat.  Thank you all so much for your vote of confidence and your support of my blog.  That's why I keep doing what I do, because I know there are people that value and appreciate this information!  Only one nomination is needed, so if you venture over there, consider giving the existing nominations a thumbs up!  Peek through the rest of the nominations – it's a great way to find new blogs to read!


You May Also Like
January 28, 2011
January 25, 2020
September 8, 2020